Wanna free your hands while taking shower?
360° Adjustable Showerhead Holder
is your
best buddy for taking shower, washing clothes or cleaning shoes
in the bathroom. You can
place the showerhead ANYWHERE
to fit your needs and do the washing efficiently!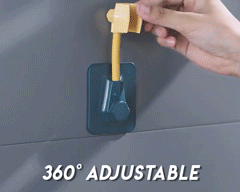 360° adjustable
- convenient to adjust the angle of the showerhead. You
may adjust the water jetting position
that you want.
Easy to install
-
comes with adhesive back
, just stick it on a clean wall and done! Install it in seconds.