Why do you choose our Car Atmosphere Lamp Interior Ambient Star Light?
Are you tired of the darkness in the car?
want to make your car more cool at night?
Lighting changes with the intensity of sound. When you listen to a song, the light changes with sound.Like the drums of rock music.
You can make settings, adjust the density of the light to change the effect of the light.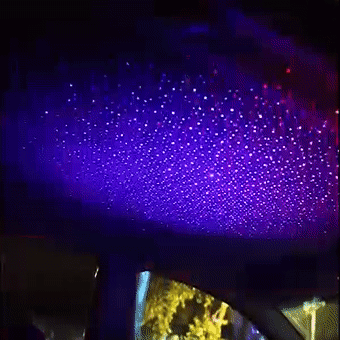 Easy to create a dynamic and vibrant atmosphere for Listen to music alone, party, disco, dance party, pajama party, and Holiday, Wedding, Christmas, Karaoke, DJ, Halloween, Get together. It is also a favorite toy for children.

✅ A variety of starlight density can be adjusted: the car starlight can be rotated to adjust the lighting mode, and the light source is stable.
✅ 360 degree rotation + USB interface: light and flexible, adjustable in multiple angles. Portable and easy to install.
✅The bright starlight effect creates a romantic atmosphere for your car roof or house, and can also be used to decorate birthdays or holiday parties.
✅This starlight projection lamp can be used as a special gift for friends or children.
✅ Fun car roof USB light can be used as night light, room decoration, car decoration, USB night light power supply, charging through the USB interface.
🏃Features: small size, light weight, space saving, a little bit of light, light in the car, illuminating our way forward
USB interface, multi-scene use, can be used at home, and the use of the room brings a universal house. Suitable for computers, mobile phones, power supplies, mobile phone charging, smart banks, etc.
Specification: Material
Metal Light Color: Violet
Size: 226x15mm
Current: 0.2 A V
Voltage: 5V
Power: 0.15W
Connection method: including 1 USB connector package